PinkyHold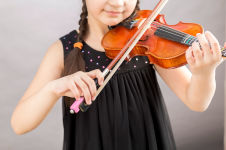 The PinkyHold was the idea of the Rezvani brothers. After showing their first sample to Cyrus, he made a few suggestions, which they incorporated, to improve it. The final result is the PinkyHold now available for purchase.
It is light, easy to put on and off, and can help children keep their pinkies curved. The purpose is not only to curve the pinky, but to give the pinky its due responsibility in balancing the bow hold between all five fingers. Your little finger can have a tremendous impact on your technique, and on your tone production. When used properly, teacher and parents will no longer need to remind young players to curve their fingers.
— Cyrus Forough
PinkyHold is available in a variety of colors, and is useful in individual and classroom settings.
The PinkyHold works with all standard fractional and full size violin and viola bows, with the exception of full size Glasser Brooklyn Classic and Bronx Bows, which are too thick.